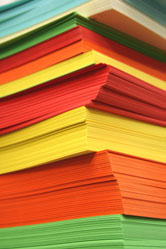 Who we are and when did we start
Wai Shun is a well-established printing company with over 20 years of professional printing experience since 1984. Head office located in Hong Kong with production complex expanded and re-located to Dongguan City/China since 1997. We have the credential of ISO9002 and certified by China Customs & Excise Department with ¡§A-Grade Management License¡¨ with over 15 years of export experience to USA, Europe and Pan Pacific markets.
What we can do:
Wai Shun is a high quality complete in-house printer specializes in producing a wide range of printing materials, including books, booklets, brochures and leaflets, and paper and paperboard labels, advertising materials, commercial catalogues, calendars, cases and boxes, postcards and greeting cards.
How we do it:
We have 161,874 square meters of production and storage complex and employing several hundred professional staffs to provide printing, binding and packaging service, with quality comparable to that of the US, Germany and Japan- the pioneers in printing technology. We offer quality and punctual services to cater for all projects from conception to delivery.